My sister and I are going to Big Island next week (Sept 2 to Sept 8, 2017). There are so many places to visit, so I spent a few days gathering info and put together the below itinerary. The goal is to visit as many places as possible and make the trip as smooth as possible.
I revised the plan on August 29 so that we can drive less and see more.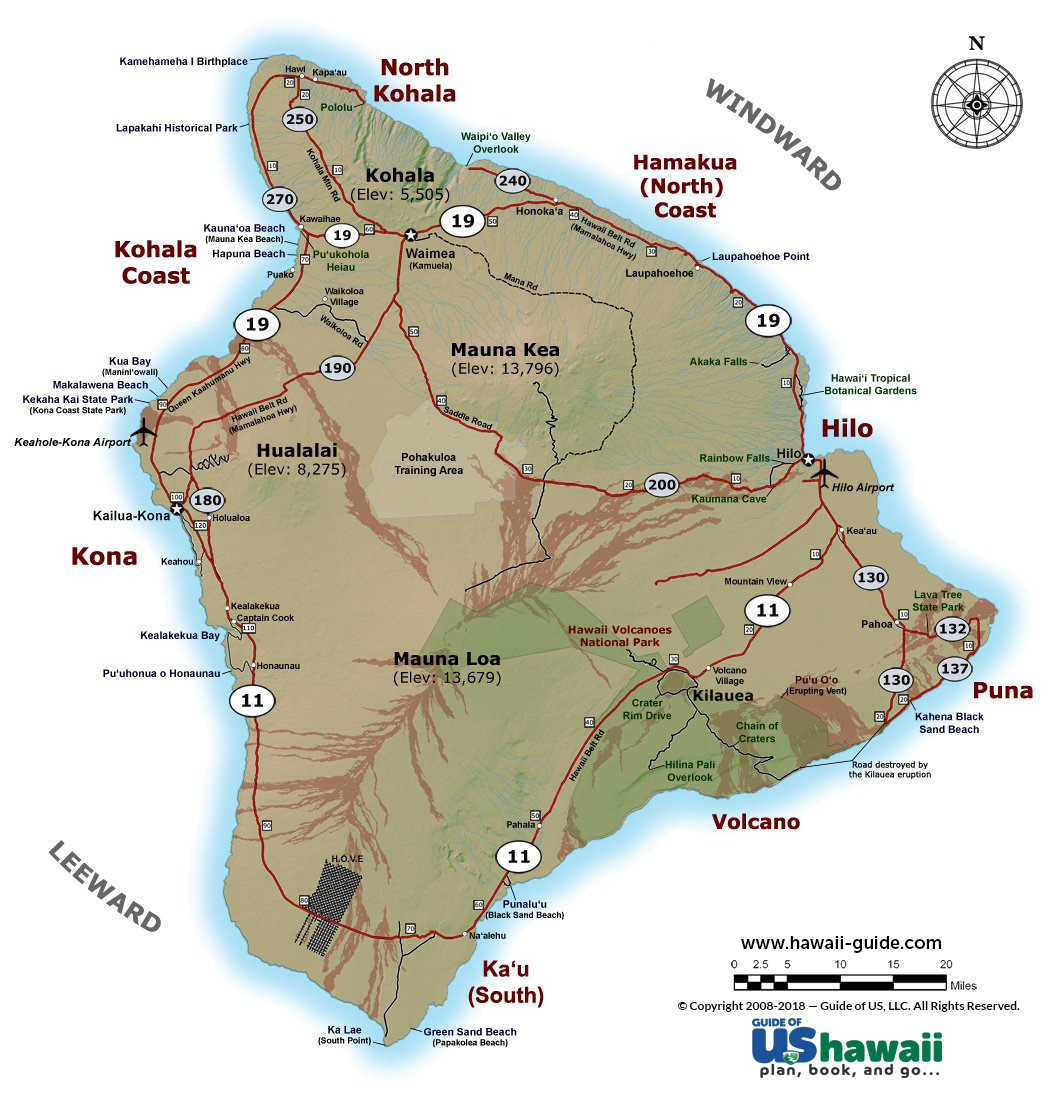 Preplanning
We book our flight, hotel and car rental on Expedia. We will spend 4 nights on the west coast atHilton Waikoloa Village, and booked a B&B (Shaka Shak Garden Inn) for the remaining two nights in Hilo (the east coast).
Day 1 (Sept 2): Getting Started
We will take an early morning flight from Vancouver to Kailua-Kona so that we arrive at noon. We will visit two places and then check into Hilton. We will spend some time to practice snorkeling at the lagoon inside the resort. After seeing so many reviews, it is impossible not to snorkel!
Morning
Early morning flight from Vancouver to San Francisco and then to Kailua-Kona.

Lunch at

Beach Tree Bar

inside Four Seasons Resort.
Afternoon
Visit Mahai'ula Beach & Makalawena Beach. Walk on the beaches and swim
VisitPuako Petroglyph Park and see the archaeological preserve
Pick up snorkel gear at Snorkel Bob's and practice snorkeling at Waikoloa Lagoon
Dinner atNapua(Hawaiian cuisine & seafood)
Day 2 (Sept 3): Kohala Coast & South Kona
This day we will go north first to visit beaches and parks on Kohala Coast. Later in the afternoon, we drive to South Kona.
Morning
Afternoon
Snorkel at Kahaluu Beach Park
Watch Sunset at Magic Sands Beach Park
Dinner at Umekes Fishmarket Bar and Grill (Hawaiian cuisine & seafood)
Day 3 (Sept 4): Mauna Kea
We will spend the entire afternoon to visit Mauna Kea. There are two options to explore the highest mountain on the island: taking a tour or driving up the mountain with a 4-wheel-drive (4WD). We choose the latter to save some money. Please note that regular 2-wheel-drive vehicles are not allowed to drive up to the summit.
Morning
Afternoon
VisitMauna Kea. See the sunset at the summit. Stargaze at the visitor center.
Day 4 (Sept 5): Kona & South Kona
This day we will spend the morning in the Kailua-Kona Town. Then we visit a few more parks in South Kona.
Morning
Afternoon
Day 5 (Sept 6): The Green & Black Sand Beaches
This day we are visiting the two famous beaches on the south of the island: Papakōlea Green Sand Beach and Punalu'u Black Sand Beach. It will be a long drive and a long hike at the green sand beach. We will also leave Hilton Waikoloa Village and check into our B&B in Hilo.
Morning
Afternoon
See the sunset at Liliʻuokalani Park and Gardens
Dinner at Sombat's (Thai)
Day 6 (Sept 7): Hawaii Volcanoes National Park
The entire day is reserved for Hawaii Volcanoes National Park.
Activities inHawaii Volcanoes National Park

Walk and visit Steam Vents, Sulphur Banks, Jaggar Museum and Kilauea Overlook
Walk and visit Kilauea Iki Crater and Thurston Lava Tube
Drive down Chains of Crater Road
Do a ranger program
See lava glow at Jaggar Museum after dark

Dinner at Cafe 100
Day 7 (Sept 8): Hilo & Hamakua Coast Drive
This day we will do the Hilo & Hamakua Coast Drive on the northeast of the island. Later in the afternoon, we will visit Waimea and then get ready to go home.
Morning
Walk around downtown Hilo. Visit Hilo Farmers Market and Two Ladies Kitchen
Lunch at What's Shakin
Afternoon
After the trip
I have posted our actual itinerary after our trip and comment on this plan. The only thing I do not consider here is my stamina. I assume that I can visit all these places without feeling too tired. I will probably need a lot of Kona coffee!